Micah 6.8 meets every Friday morning at 6:15 a.m. to 7:25 a.m. at the Drowsy Poet Coffee Company and you are invited. (Click here for directions and information about the Drowsy Poet Coffee Company at 86 Brent Ln, Pensacola, FL 32503)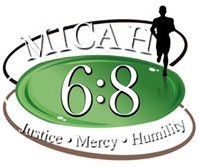 About Us: Our mission is simple, yet immensely difficult. We are a group of men dedicated to seeking the welfare of our city in accordance with Jeremiah 29, and living out the Cultural Mandate of Genesis 1 to be image bearers of God in the midst of His creation. We desire to be those who bless our city as Proverbs 11 calls us to do. Our charter passage, Micah 6:8, calls us to do all of this with Justice, Mercy, and Humility.
Our Focus: As of late, our study has focused on the three aspects of The Manhattan Declaration – Life, Liberty, and Marriage. As our culture disposes of the unborn, restricts the space in which the "free exercise of religion" may be practiced, and continues to undermine marriage through divorce, co-habitation, out-of-wedlock birth, and now, through the institutionalization of gay-marriage, our task to live as image bearers is two-fold: We must live lives of flourishing for the watching world to witness, as a demonstration of something far better than what the world has to offer, and we must push back and fight against the dominant secular and progressive forces that further seek to undermine a transcendent moral order. Our conviction is not one of retreat, but one in which we gather together for the purposes of being strengthened for fighting the good fight of faith in the midst of a very fallen world.
Our Confession: While our group consists of men from a variety of confessional backgrounds, our unifying confession is that of The Apostle's Creed (found here). Any man willing to affirm this Creed is welcome to participate in our fellowship. Additionally, our unifying platform and framework for cultural engagement is The Manhattan Declaration, which focuses on Life, Liberty, and Marriage (Click here). We highly encourage all of our participants to become a signatory to this Declaration as a symbol of our unity on these issues, however, we recognize that some serious-minded Christians may have certain reservations that preclude signing this document; therefore, we do not make it mandatory for affiliation with our group.
Our History: Micah 6.8 began with a small group of men who decided to meet for fellowship, study, and a quick run. It quickly grew, by God's grace, into something much larger, and now consistently has 20-30 men from various walks and denominations who meet every Friday morning at the Drowsy Poet to be equipped to think biblically in the midst of a culture dominated by unbiblical thinking and practice. Our studies are broad and encompass theology, history, literature, art, economics, law, politics and much more.